Men's jewellery is getting more and more popular and there are a lot of different options available for men to choose from. Men are becoming more interested in accessorising with jewellery and adding a touch of freshness to their look.
There are some important things to keep in mind when you are wearing jewellery and here are the biggest do's and don'ts of wearing jewellery.
The Don'ts Of Wearing Jewellery
As men are getting more into wearing jewellery it is important to avoid making simple mistakes and end up making the jewellery the centre of attention for all the wrong reasons.
Therefore it is really important jewellery looks natural on you. This means that you shouldn't buy items that make you feel uncomfortable and self-conscious. It does take some time to get used to jewellery and for this reason it is best to start with simple pieces instead of buying elaborate items.
Don't step outside dress code. This point means that if you have a job where jewellery is only in the way or just doesn't look appropriate you need to avoid wearing it. This also means that you need to wear appropriate jewellery for each occasion. Don't wear your big skull ring and skull bracelet for a funeral.
Don't forget that jewellery has a meaning. For instance, it is best to avoid wearing crosses and crucifixes unless you are of that certain faith. You might also want to learn what is your country's stance on wedding ring finger to avoid confusion over whether you are married or not.
The Do's Of Wearing Jewellery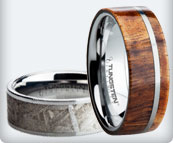 The best thing to keep in mind is to match metals according to the Art of Manliness. This will help your look stay unified and won't make your jewellery look out of place. Don't worry about your wedding ring though; this can always be of a different metal than the rest of your jewellery,
Do use jewellery to express yourself and enhance your best qualities. Jewellery is a great way to show off your personality and thus if you are a big biker and rock 'n roll fan then go for leather options to show your style.
You should also use jewellery as a way of highlighting your best qualities. For example, with right coloured jewellery you can enhance the tone of your skin and even bring out the colour of your eyes more.
Do experiment with different styles. Although it is important you are comfortable with wearing jewellery you can still try out new things and see what works for you.
For instance, there are a lot of different materials in rings and you should see which you like the best. One favourite to try out are tungsten rings for men, which you can find at the Men's Tungsten Online store.
The above tips can help you avoid making the most common mistakes when wearing, and selecting, jewellery. It is important to take your time when you are selecting jewellery and use it to accessorise in a modern and trendy way.
Philippe is passionate about jewellery and fashion and is always browsing the internet to find out new fashion bargains. He is also a big fan of the Italian culture and is especially loving the way Italians focus on looking trendy and elegant at all times.