Engraving your ring is a great way to increase the sentimental value of the ring and remind you of the reason you got the ring. Whether it is your wedding ring or a ring you bought for yourself as a gift when your first child was born, a great engraving can really make the ring special. Here are some top tips and ideas for getting a ring engraving.
Traditional Engravings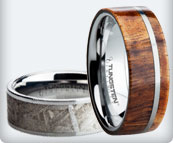 The most common things people engrave on their rings are names or important dates. Sometimes initials are also opted as an engraving on the ring.
If you want to engrave names but want to add a bit of a twist to the engraving there are some alternatives you can consider. You can see if your names are easily translated to a different language or if you can use symbolism to represent them.
You can also do birthdays for instance instead of engraving the names of your children on your ring.
Inspirational Quotes
A great engraving is something that reminds you of the purpose of the ring and thus inspirational quotes can be really great as an engraving. You can also engrave these short quotes in different languages if you want to add an extra flair to your engraving. Latin engravings such as:
Semper Amemus – Let us love always
Amor Vincit Omnia – Love conquers all
are really lovely for a ring engraving. Edmonton Wedding Guide has a lot of other great inspiration quotes that you should browse through.
A Personal Message
Engraving could also be something that is personal to you and can be something that only really has significance to you and your spouse for instance. This means that you could engrave the place you two met instead of the wedding day, or engrave your special song to the ring.
A great idea for a ring engraving for celebrating your children is to add their geographical birth locations to your ring. You can also use the geographical location on your wedding rings.
The great thing about personal message is that it can be anything that has a special value for you and it will be a nice personal touch if you are giving the ring as a gift for example. It adds a sense of thought put into the gift if you have engraved something really personal to the ring.
For Your Eyes Only
It is also possible to engrave a microscopic text onto the ring which will only be visible with a magnifying glass. This will make the engraving feel really special and something that is for your eyes only. These tiny engravings can be a message or even a symbolic drawing and add a really lovely touch to a ring.
How To Do It
You can get your ring engraved at the time of purchase or you can engrave it with some specialists at a later point. Men's Tungsten Online store for instance offers engraving for separately purchased rings as well as for their own ring collection. There are different methods available but the safest way to engrave your ring is to use the laser engraving option.
Krista is a jewelry-enthusiast who is constantly on the lookout for new trends. When she isn't filling up her jewelry box with new jewelry, she enjoys meeting her friends over a freshly brewed coffee.