Tungsten rings are one of the hottest jewellery trends of the moment, and are set to become even more popular throughout this decade. While there is still demand for traditional metals seen in jewellery, such as gold and silver, tungsten, along with other alternatives such as platinum and titanium, are earning a larger share of the market.
Of all the 'new age' metals, tungsten is the one likely to breakout and become the 'next big thing' in jewellery, if it hasn't earned that status already with its current level of popularity. What is making tungsten so popular, and what types of rings are available?
Tungsten Carbide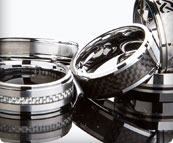 The best tungsten rings aren't made from 100% tungsten, but are in fact tungsten carbide, the alloy created when tungsten and carbon are melted and mixed together at over 6000°F.
This alloy is one of the strongest compounds in the world, and as a result tungsten carbide rings are durable and almost impossible to scratch. Another benefit is that they don't lose their shine.
These attributes are what make tungsten popular; you're able to buy the ring and that's it. No regular trips to the jewellers to have damage repaired or your ring cleaned, and no having to take your ring off when you're in the garden or doing something else that exposes your ring to dirt and grime.
The benefits of tungsten rings are clear; so when might you buy one?
Excellent for Any Occasion
Although tungsten rings primarily becoming popular as a modern wedding band choice, the reality is that a tungsten ring is a great purchase whatever the occasion. They are an excellent gift purchase, while you might even consider buying one if you're just looking to add a stylish accessory to your appearance.
The big reason they are an option for any occasion is because of the range of tungsten rings available.
Types of Rings
Plain Tungsten Carbide Bands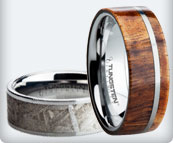 Like with any metal, there is a simple, timeless option available. Basic it may well be, but a tungsten carbide ring is a tungsten carbide ring; it doesn't need to be jazzed up to look amazing. If you're shopping for a ring on a tight budget, too, such a product enables you to have a great band without breaking the bank.
Stone Inlay Tungsten Bands
Okay, so you're the sort of person who can't resist a diamond set into your jewellery. That's no problem, as there are a wide range of tungsten bands available with diamonds and other precious stones set into them. The range is limited somewhat, however, owing to the toughness of the metal; precious stones fit into tungsten rings, rather than the ring being produced around the stones.
Customized Options
The most stunning options are definitely customized tungsten rings. Customization options typically range from text engravings or patterns to unique products where other materials, including meteorite, wood, or caribou antler, can be sandwiched between the tungsten carbide and used to produce a two-tone ring with a difference.
More basic two-tone rings, which are 100% tungsten carbide but have been brushed to create an effect, are also available.
The Growing Market
The vast number of tungsten ring options available, as well as the range of benefits given by the product, tell the story as to why they're becoming so popular. In the coming years, expect gold and silver to become much less common, and tungsten rings to become a standard bearer for all types of jewellery, not just rings.
Joe loves anything associated with fashion and style, and is currently looking at a number of tungsten rings before deciding which to purchase to enhance his appearance. As well as fashion, Joe is passionate about sports and loves taking part in outdoor activities.